Webinar-On-Demand: Vehicle Fleet Technology for Social Services Fleets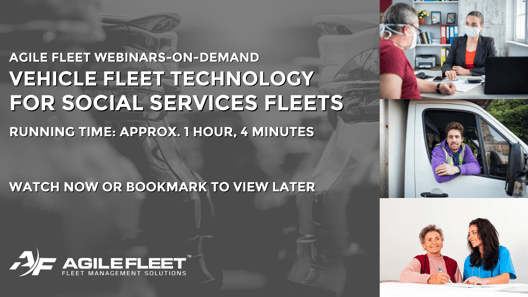 The many departments of Social Services across North America promote and safeguard the well-being of their communities by strengthening, empowering, and preserving the dignity of individuals and families, providing quality services and supporting clients in achieving self-sufficiency, and more. Their vehicle fleets need to be highly efficient and cost-effective, and ready to perform tasks at a moment's notice.

If the pandemic has changed your fleet usage, now is the time to rightsize, launch a shared vehicle fleet, or automate the one you have.

Our free on-demand webinar, "Vehicle Fleet Technology for Social Services Fleets," features fleet expert Ed Smith of Agile Fleet. In this session, Ed will share practical advice from organizations that have been able to:
Optimize their fleets

Reduce costs by reducing underutilized vehicles

Enable web-based reservations and manage fleet online

Offer secure no-attendant required access to vehicles and keys

Meet specific requirements for usage and utilization by driver and vehicle

Enforce money-saving vehicle use policies

Manage expense, mileage, and utilization reporting and 'Home to work' mileage reporting

Streamline manual/labor-intensive processes, including:





Online mileage reporting




Expense and mileage capture
This webinar is available below. Just click the link to get started.

---
Prefer to talk?
To discuss further or to get answers to any questions, here's a link to Client Success Manager Scott Farmerie's calendar. Feel free to choose a date and time that is convenient for you: https://calendly.com/sfarmerie/15min