About Agile Fleet
Agile Fleet's Core Values
In early 2020, the management team of Agile Fleet developed core values for the company. These core values are a timeless set of guiding principles that define the behaviors we expect from each other and our partners, clients, and associates. They define our culture and guide our business decisions. They define what makes our company different and unique.
Agile Fleet also established an Annual Core Values Awards program to recognize clients, staff and others who epitomized each core value during the year (for more on the 2020 Core Values Award see this blog.)
Our core values are: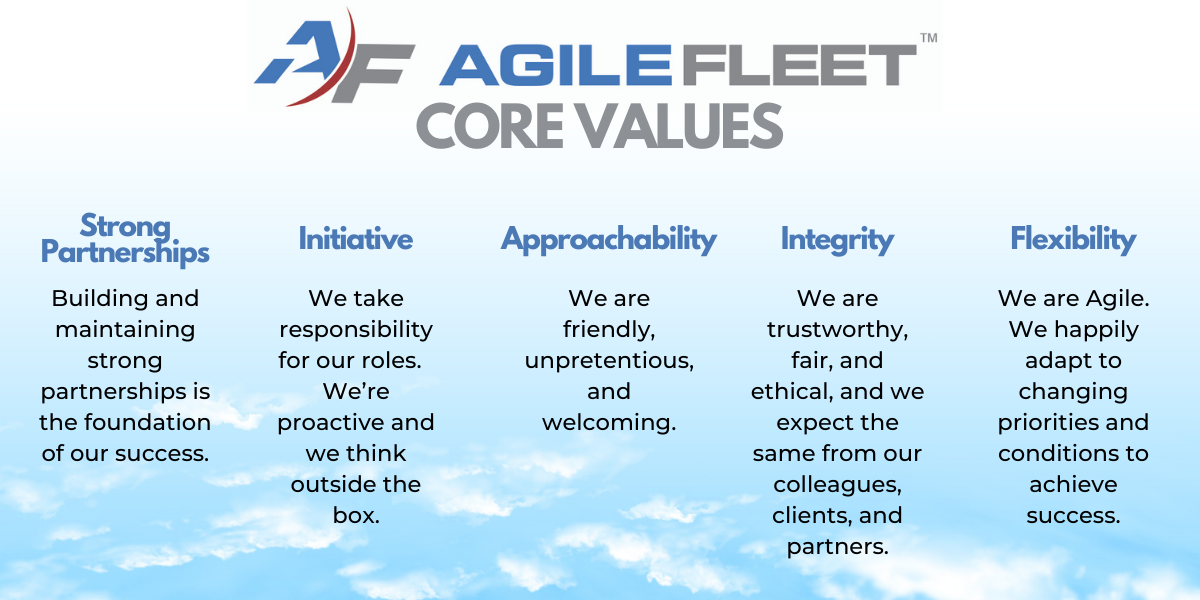 Our History
In early 1992, the founders of Agile Access Control, Inc. (now Agile Fleet, Inc.) developed a fleet management solution for managing a small fleet in San Jose, California. The management challenge for that first fleet wasn't simply related to maintenance tasks; this fleet needed to share vehicles among drivers. Such a system just didn't exist. Agile Fleet founders had no idea their initial effort for one small fleet would evolve into a product that has become FleetCommander today. The FleetCommander fleet management information system (FMIS) is a comprehensive and robust web-based fleet and motor pool solution deployed in government, university, and commercial fleets.
In 2017, Agile Access Control, Inc. shortened its name to Agile Fleet, and introduced new corporate and product logos. Agile Fleet President Ed Smith explains: "This was most definitely not just a name refresh and logo update. There are many forward-thinking changes happening within our products and company that the new name and logo reflect. FleetCommander has historically been known for its robust car sharing capabilities. However, FleetCommander is a very valuable tool for organizations that need a strong fleet management information system but don't necessarily need to share. We like to think of the FleetCommander FMIS as the "engine" managing vehicles and drivers in all crucial areas of fleet management," he says.
Today, Agile Fleet clients have fleets and motor pools ranging in size from 25 vehicles up to thousands of vehicles.
Agile Fleet has grown to prominence in the fleet market space by focusing on optimizing the use of fleet vehicles and fleet staff. Our clients share and manage more than 25,000 vehicles using FleetCommander every day. Our metrics-based approach to fleet right-sizing and management results in savings across every type of fleet. And, we are able to reduce costs while increasing driver satisfaction. Despite our successes over the years, we're not done yet. Our staff continuously works to enhance our product offering to further increase its value to our customers; the needs of our fleet manager customers are always paramount in everything we do.
Agile Fleet's people-centric corporate philosophy extends beyond product development and implementation however. We also believe in giving back to the communities around us as well. We do so in our annual "Agile Fleet Gives Back" campaign in which we contribute to worthy organizations such as volunteering annually at a Habitat for Humanity build project, donating funds to support the Wounded Warrior Project, providing needed supplies to The Fisher House Veteran's Affairs Hospital's Home-Away-From-Home facilities, and through frequent donations to local blood banks.


---
Our Executive Team