Work with Us

Our Culture
Agile Fleet is proud to be a rapidly growing technology company with an outstanding track record of employee longevity and dedication. Our corporate philosophy is designed to nurture high-performing talent by combining flexibility along with technical and organizational challenges on a daily basis. The Agile Fleet Team comprises a diverse group of individuals with differing backgrounds, talents, and perspectives. Our success over the years is a direct reflection of having a cohesive team that works together with laser focus on the success of our clients.
Agile Fleet leadership strives to always keep lines of communication open to ensure opinions are heard and empower our workforce in a way that enables every employee to succeed. Employee engagement is a key focus of the Agile Fleet management team. We also believe that giving back to the communities around us makes us a stronger team. We do so in our annual "Agile Fleet Gives Back" campaign in which we contribute to worthy organizations.
Past efforts include activities such as volunteering at Habitat for Humanity build projects, donating funds to support the Wounded Warrior Project, providing needed supplies to The Fisher House Veteran's Affairs Hospital Home-Away-From-Home facilities, and through frequent donations to local blood banks.
Core Values
In early 2020, the management team of Agile Fleet developed core values for the company. These core values are a timeless set of guiding principles that define the behaviors we expect from each other and our partners, clients, and associates. They define our culture and guide our business decisions. They define what makes our company different and unique.

We also established an Annual Core Values Awards program to recognize clients, staff and others who epitomized each core value during the year (for more on the 2020 Core Values Award see this blog.)

Our core values are: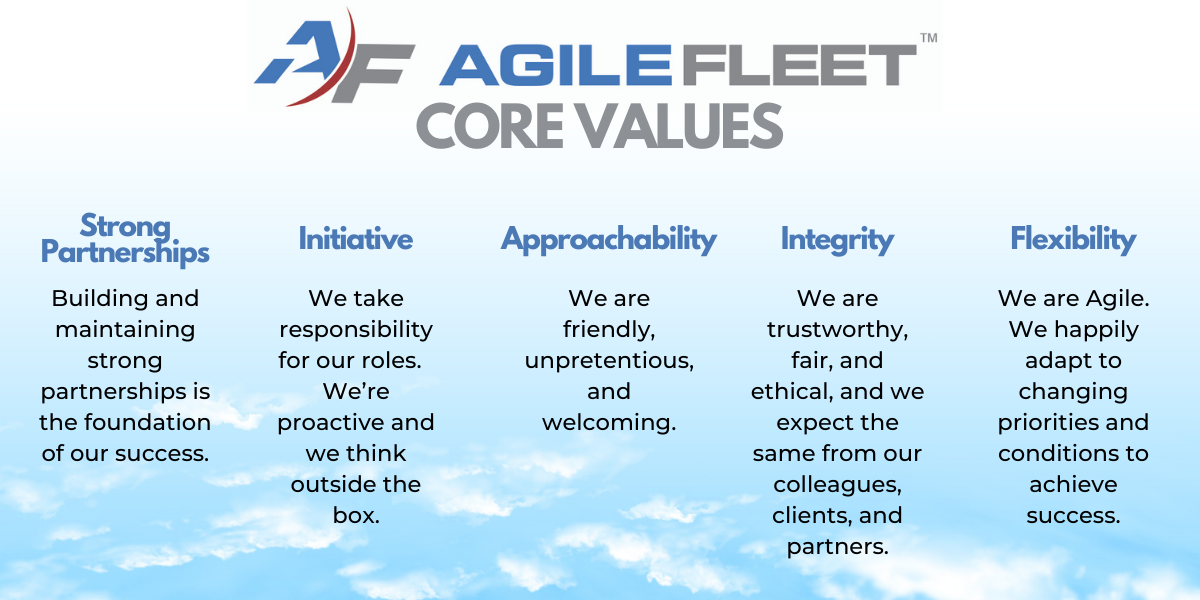 Benefits
Agile Fleet offers workplace flexibility that includes a business casual dress code as well as 401K with generous employer match. In addition, employees are offered health, dental, vision insurance with a significant portion covered by the company along with a 100% covered life insurance benefit. We offer paid vacation and observe all major holidays, and host frequent "logo lunch" celebrations as we welcome new clients into the Agile Fleet family. We are conveniently located near Dulles Airport in Chantilly, Virginia.
Current Openings
If you don't see a job opening that applies to you but still feel you have the skills and personality to be a successful member of our team, we want to hear from you. Please feel free to forward your resume with a cover letter, sharing a little bit about your personality and explaining how you think you could contribute to the Agile Fleet team, and email it to us at esmith@agilefleet.com.
---
Vice President of Engineering (Full-Time)
Application Instructions: Please read this posting thoroughly to see that it is a fit based upon your experience and skillset. If it is, send resume AND COVER LETTER to esmith@agilefleet.com with the subject line "VP of Engineering." Cover letter should describe your passions and what makes you a fit for this position.
Responsibilities: We are looking for an experienced, well-rounded VP of Engineering to manage diverse teams supporting our SaaS-based fleet management information system. The responsibilities of the VP of Engineering include maximizing the outcomes from the engineering teams, collaborating with department managers and senior management, and improving company policies and standards as they relate to the following functions:
New customer implementations

Technical support

Product architecture

Software development (including documentation and testing)

System administration for web-based applications and related hardware peripherals

PC / Network administration

Security
Experience and Skills Preferred: To be successful as our VP of Engineering, you must have strong, proven organizational leadership experience, be able to effectively collaborate with team members, be a strategic problem-solver, and have hands-on experience with the Microsoft Development stack - .NET, SQL Server, Windows, Server, etc. The candidate must have strong emotional intelligence, excellent communication skills, an ability to communicate effectively with our team of engineers and developers, and a have solid foundation in software design, system administration, security and operational support of a web-based product. This is a senior management leadership position that will include hiring and firing decisions, final decisions as they pertain to the technology stack, budgeting and forecasting (hosting costs, staff run-rate, on-shore vs. off-shore considerations and cost/benefit analysis), strategic decisions with respect to technology roadmap, and more. As we are a small tight knit group, everyone "wears many hats," the VP of Engineering is no different. Each employee contributes across many areas, i.e., we do not have any narrowly focused stove-piped positions.
Major initiatives we look for our VP of Engineering to manage in the near-term include, but are not limited to:
Folding the implementation, support, development, product architecture, system administration, and security functions of the company under a leader that directly reports to the president.

Completing a transition from legacy software languages to .net or alternatives. Legacy code was written in Classic ASP (VBScript).

Achieving a software release cadence of 3–4 major updates per year.

Ensuring we maintain our exceptionally high operational availability for all hosted products and services.

Evaluating the cost-effectiveness and ease-of-administration of our current hosting solution and developing a plan for a "warm" or "hot" disaster recovery capabilities.

Strengthening our security posture, tools, capabilities, and focus.

Positive can-do attitude with demonstrated emphasis on building long-lasting customer relationships

Helping formulate the company's technical short-term and long-term priorities.
Position Requirements:
Computer Science, Engineering or similar degree or equivalent real-world experience

15+ years' of directly related experience managing SaaS solutions

Strong organizational leadership skills, decision-making skills, can-do attitude and overall behaves with integrity and an entrepreneurial spirit

Ability to strategically plan, prioritize, develop and manage schedules, execute deliverables in timely manner, and achieve established goals

Experience recruiting engineers and other contributors

Previous hands-on working experience in software design and development

Strong knowledge of database (SQL Server) design and structures

Experience in communications and network technology especially in maintaining an operational environment for a SaaS-based solution

Current knowledge of technology trends, best practices, and change management

Ideally, ability to work at our headquarters in Chantilly, VA a minimum of four days per week
In addition to the above, it is preferred that the candidate has experience with:
Migrations from legacy environments to AWS or Azure Cloud

Cloud-based software and network management, in general

Modern software development and release processes

Experience or knowledge of Entrepreneurial Operating System management processes a plus
---
Software Solutions Consultative Sales Team Member (Director of National Sales) Full-Time
Application Instructions: To apply, please read entire job description and provide a cover letter and resume to esmith@agilefleet.com with the subject line "Software Solutions Consultative Sales Team." Your cover letter should tell us why you are great at what you do, your philosophy about sales, and a bit about your personality. We value the capability to follow directions, so candidates who follow these simple application instructions carefully and completely are most likely to be invited to move forward in the interview process.
Responsibilities: We invite you to join a high-performance, client-focused team of Consultative Sales representatives with Agile Fleet. Whether you are a veteran to fleet and motor pool management or new to the fleet industry, we are interested in you. Our sales team takes the time to learn the right questions to ask potential clients to steer them on the right path. And even if our solution isn't right for them, our sales team will be honest about that -- and make recommendations. Our goal is to continue to build a sales team that is made up of subject matter experts that offer help and advice--tailored to meet the challenges our clients are facing. Sales team salaries are commensurate with experience, including revenue-based commissions.
Our Sales Consultant will:
Gain an understanding of the fleet market space. That is, we need you to understand the challenges faced in the different fleet environments so that you can communicate how our product will benefit our customers.

Respond to sales inquiries, assess pain points and identify customer needs and challenges

Educate the prospect by presenting the benefits of our solutions in a consultative manner

Keep meticulous notes in a timely fashion in Salesforce.com, our internal CRM software

Deliver engaging demos of our product online while using web conferencing tools (GoToMeeting, WebEx)

Deliver engaging demos of the product on-site with clients and answer on-the-spot and sometimes in-depth questions from prospective client

Maintain proficiency with the following software products: Outlook, Word, Excel, PowerPoint, Salesforce.com, GoToMeeting, WebEx, and other internal applications

Provide accurate sales forecasts and communicate sales status to management teams

Identify opportunities to upsell products and services to existing customers
Experience and Skills Preferred:
Outstanding consultative sales skills, especially follow-up and closing skills

Proven track record of meeting and exceeding sales goals

Experience with high-dollar software and hardware sales

Ability to identify key pain points and challenges of prospective clients, and communicate ways our solution can help address those challenges

Self-motivated, executive level presence

Excellent spoken, written, and presentation skills

Positive can-do attitude with demonstrated emphasis on building long-lasting customer relationships

Experience with CRM systems (preferably Salesforce.com), CPQ or other quoting software, PowerPoint, GoToMeeting, Webex, etc.

Experience with government sales and proposals a plus