Work with Us

Our Culture
Agile Fleet is proud to be a rapidly growing technology company with an outstanding track record of employee longevity and dedication. Our corporate philosophy is designed to nurture high-performing talent by combining flexibility along with technical and organizational challenges on a daily basis. The Agile Fleet Team comprises a diverse group of individuals with differing backgrounds, talents, and perspectives. Our success over the years is a direct reflection of having a cohesive team that works together with laser focus on the success of our clients.
Agile Fleet leadership strives to always keep lines of communication open to ensure opinions are heard and empower our workforce in a way that enables every employee to succeed. Employee engagement is a key focus of the Agile Fleet management team. We also believe that giving back to the communities around us makes us a stronger team. We do so in our annual "Agile Fleet Gives Back" campaign in which we contribute to worthy organizations.
Past efforts include activities such as volunteering at Habitat for Humanity build projects, donating funds to support the Wounded Warrior Project, providing needed supplies to The Fisher House Veteran's Affairs Hospital Home-Away-From-Home facilities, and through frequent donations to local blood banks.
Core Values
In early 2020, the management team of Agile Fleet developed core values for the company. These core values are a timeless set of guiding principles that define the behaviors we expect from each other and our partners, clients, and associates. They define our culture and guide our business decisions. They define what makes our company different and unique.

We also established an Annual Core Values Awards program to recognize clients, staff and others who epitomized each core value during the year (for more on the 2020 Core Values Award see this blog.)

Our core values are: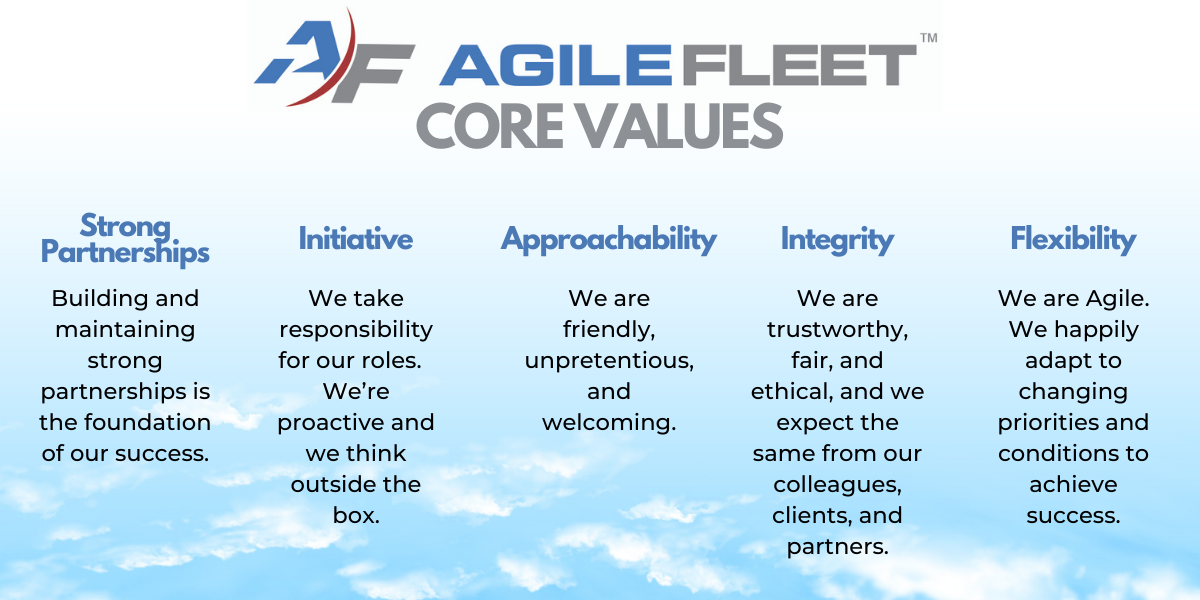 Benefits
Agile Fleet offers workplace flexibility that includes a business casual dress code as well as 401K with generous employer match. In addition, employees are offered health, dental, vision insurance with a significant portion covered by the company along with a 100% covered life insurance benefit. We offer paid vacation and observe all major holidays, and host frequent "logo lunch" celebrations as we welcome new clients into the Agile Fleet family. We are conveniently located near Dulles Airport in Chantilly, Virginia.
Current Openings
If you don't see a job opening that applies to you but still feel you have the skills and personality to be a successful member of our team, we want to hear from you. Please feel free to forward your resume with a cover letter, sharing a little bit about your personality and explaining how you think you could contribute to the Agile Fleet team, and email it to us at esmith@agilefleet.com.
---
Hardware Technician and Support Specialist
To respond, provide a cover letter and resume. If you are great at what you do, we want to hear from you. Please do NOT respond if you are unable to take the time to provide a cover letter that tells us a little bit about you and your interest in this specific position.
Apply: Send cover letter and resume to dkennerley@agilefleet.com with the subject line "Hardware Technician and Support Specialist."
WE ARE ONLY SEEKING APPLICANTS THAT CAN COMMUTE ON A DAILY BASIS TO CHANTILLY, VA, BECAUSE WE NEED CANDIDATES TO SUPPORT HARDWARE EFFORTS AT OUR CHANTILLY-BASED LOCATION.
ABOUT US
Our company is small (~ 30 employees) yet our reputation is known throughout the fleet industry across North America, including government (federal, state, local), education (colleges, universities), commercial industries, and non-profits. Our headquarters is in Chantilly Virginia. We are privately held. Our company and our client-base are growing. Our growth this year will exceed 25% over last year. Our team is very approachable and friendly. We operate under the proven management framework, Entrepreneurial Operating System (EOS - https://www.eosworldwide.com/what-is-eos). We hire, promote, and make other changes based upon our core values of:
Strong Partnerships - Building and maintaining strong partnerships is the foundation of our success.

Initiative - We take responsibility for our roles. We're proactive and we think outside the box.

Approachability - We are friendly, unpretentious, and welcoming.

Integrity - We are trustworthy, fair, and ethical, and we expect the same from our colleagues, clients, and partners.

Flexibility - We are Agile. We happily adapt to changing priorities and conditions to achieve success.
What exactly is it that we do?
Organizations of all shapes and sizes rely on vehicles to do their work. We provide technology to help organizations manage those vehicles. Our niche in the fleet industry is that we have the software and hardware tools that facilitate the efficient sharing of vehicles (e.g., reservations, self-service vehicle check-out & check-in, utilization reporting, automated billing). Through efficient sharing and vehicle management, organizations are able to save time, reduce costs, and improve service to their stakeholders. Our product, FleetCommander, also has fleet management capabilities / features such as GPS, self-service kiosks with automated key control, preventive maintenance scheduling, risk management, fuel management, driver management, reporting, and more. Locally, organizations such as Montgomery County, Prince George's County, Fairfax County, the EPA, Frostburg University, and more use our system. I would encourage all interested candidates to view our web site (www.AgileFleet.com) before responding to learn about our workplace culture, products, services, and our outstanding customer service.
What You'll Be Doing
Join a high performance, customer-focused team of Technical Support Representatives.

Work full time in the Chantilly, VA office.

Responsible for building and shipping of customer hardware.

Responsible for accepting, tracking and working with operations to re-order when stock hits minimum.

Keep the work area organized and presentable.

Ensure sales kits, tradeshow, and demo equipment are operational and kept current.

P

articipate in regular meetings with Support team members to ensure overall team success.

Responsible for provisioning and maintaining employee laptop and desktop computers, including upgrades to hardware, software, security updates, etc.

Responsible for testing of new hardware firmware from outside partners

Track and maintain list of items delivered to customer (e.g., Software modules, versions and hardware)

Effectively track, prioritize, and ensure that support tickets are resolved in a timely and satisfactory manner

Efficient escalation of incidents and issues that affect customer production software and hardware to the Development team and Management.

Document processes and steps necessary to resolve application issues and/or best practices.

Develop content for customer knowledge base.

Provide feedback on new features during the development cycle.

Participate in on-call rotation.

Ability to travel to client site if needed.

Assist with

product testing cycles including system and regression testing.
Experience and Skills Needed
Organization and attention to detail are a must.

Ability to pass a background and drug screening check (due to access to customer data).

Minimum of 3+ years provisioning and maintaining software, hardware, and troubleshooting hardware problems are a must.

Minimum of 3+ years in a technical support, preferably in a customer facing role.

Minimum of 3+ years in helpdesk role, provisioning and maintaining laptops and desktops.

Minimum of 1+ years in inventory management.

Networking knowledge.

Must possess strong sense of ownership of customer relationship.

Personal and corporate integrity.

Bachelor's degree, or related experience.

Experience being part of a growing team.

Exceptionally strong verbal and written communication skills.

Must demonstrate strong interpersonal skills.

High-level of technical aptitude and an ability to quickly learn new technologies.

Ability to quickly assess situations to pinpoint source of technical issues.

Self-Starter with strong organizational skills and drive to power through the daily tasks.

Potential to thrive in a fast-paced and high-growth startup environment with evolving responsibilities.
Preferred Skills
Experience and/or certification with Salesforce or other help desk systems.

Experience working in a SaaS environment.

Understanding of SQL Server and IIS.

Experience with Microsoft Teams.

Fleet Management Experience.

Experience with meeting Service Level Agreements.

Knowledge of and/or experience with EOS® (Entrepreneurial Operating System).

Must be willing to roll up your sleeves and understand how to use, and maximize the benefit from our application.
What's In It for You
Training on different hardware and software technologies.

Salary commensurate with experience.

Matching 401(k) plan.

Generous PTO and flexible, paid holidays, including "paid, paid time off".

Health, dental and vision benefits.

Opportunities for training and career development

Flexible work environment with casual dress code.

Opportunity to work alongside of a strong team of talented professionals who are passionate about what they do, and work alongside a management team that is customer focused and driven to deliver their best on a daily basis.

Opportunities to offer a fresh look at the way we do things and drive positive change for the greater good of the organization and the industry

Workplace flexibility, work-life balance (one of our aspirational goals is to win a Best Place to Work Award and while we haven't won yet, we are working toward it!)
Job Type: Full-time
Work authorization:
Work Location: Onsite – Chantilly, VA
Software Solutions Consultative Sales Team Member (Director of National Sales) Full-Time
Application Instructions: To apply, please read entire job description and provide a cover letter and resume to tcain@agilefleet.com with the subject line "Software Solutions Consultative Sales Team." Your cover letter should tell us why you are great at what you do, your philosophy about sales, and a bit about your personality. We value the capability to follow directions, so candidates who follow these simple application instructions carefully and completely are most likely to be invited to move forward in the interview process.
Responsibilities: We invite you to join a high-performance, client-focused team of Consultative Sales representatives with Agile Fleet. Whether you are a veteran to fleet and motor pool management or new to the fleet industry, we are interested in you. Our sales team takes the time to learn the right questions to ask potential clients to steer them on the right path. And even if our solution isn't right for them, our sales team will be honest about that -- and make recommendations. Our goal is to continue to build a sales team that is made up of subject matter experts that offer help and advice--tailored to meet the challenges our clients are facing. Sales team salaries are commensurate with experience, including revenue-based commissions.
Our Sales Consultant will:
Gain an understanding of the fleet market space. That is, we need you to understand the challenges faced in the different fleet environments so that you can communicate how our product will benefit our customers.

Respond to sales inquiries, assess pain points and identify customer needs and challenges

Educate the prospect by presenting the benefits of our solutions in a consultative manner

Keep meticulous notes in a timely fashion in Salesforce.com, our internal CRM software

Deliver engaging demos of our product online while using web conferencing tools (GoToMeeting, WebEx)

Deliver engaging demos of the product on-site with clients and answer on-the-spot and sometimes in-depth questions from prospective client

Maintain proficiency with the following software products: Outlook, Word, Excel, PowerPoint, Salesforce.com, GoToMeeting, WebEx, and other internal applications

Provide accurate sales forecasts and communicate sales status to management teams

Identify opportunities to upsell products and services to existing customers
Experience and Skills Preferred:
Outstanding consultative sales skills, especially follow-up and closing skills

Proven track record of meeting and exceeding sales goals

Experience with high-dollar software and hardware sales

Ability to identify key pain points and challenges of prospective clients, and communicate ways our solution can help address those challenges

Self-motivated, executive level presence

Excellent spoken, written, and presentation skills

Positive can-do attitude with demonstrated emphasis on building long-lasting customer relationships

Experience with CRM systems (preferably Salesforce.com), CPQ or other quoting software, PowerPoint, GoToMeeting, Webex, etc.

Experience with government sales and proposals a plus