FleetCommander Customer Testimonials
We know that our customers are our #1 asset. We are passionate about getting to know our customers on a professional and personal level, while helping them to succeed. We think that is the "secret sauce" of our company's success and why we stand out among other vendors in the same market space.

Our customers are just as passionate in letting us know we've done our job. Whether it is about our team, our product, or a little bit of both, FleetCommander users aren't shy about singing our praises.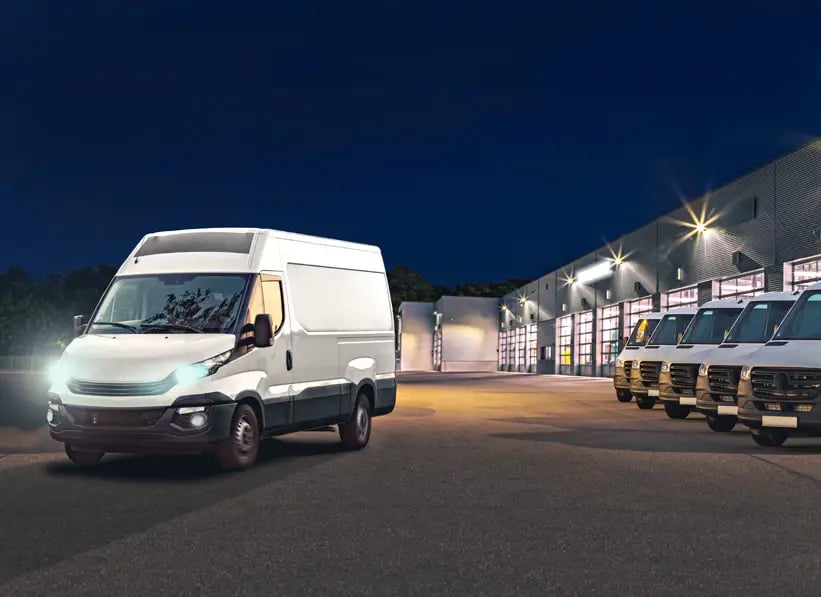 On Customer Service & Support...
"You have a great team! This is a great partnership. It says something about your product when we can roll FleetCommander out to 9 new sites without a whimper from them."
"I was just talking about how well everything seems to be going with the working relationship between Agile Fleet & UW Fleet services. I am very pleased on how well things are and have been. You folks there at Agile Fleet are the Cream of the Crop and we truly appreciate everything."
"Volusia County does not consider Agile Fleet a vendor; they are a partner. The product and customer service are awesome."
"I just want to thank you again - you have been so wonderful to work with and genuinely care about our being happy with your product."
Illinois State University
The Agile Fleet Commander team always responds in a timely manner, with such positive customer service, to all of our needs. They are willing to help in any way they can to make our jobs easier. The service they provide is exceptional, reliable, and speedy! Thanks for all you do!
Lauren Palmer, Customer Service Representative, Fleet Reservations at Illinois State University
I have used the FleetCommander for the last 8 years. It is simple to use. The best part is their customer service. They are always just a phone call away and very helpful. They helped us build customized reports tailored to our needs.
Rebecca Maldonado, College Mail Services Supervisor at Dona Ana Community College
The team at Agile Fleet made the transition into FleetCommander seamless. FleetCommander has allowed us to track inventory, fuel purchases, preventative maintenance, and odometer readings. We have requested several updates to the software and have identified some bugs, both of which, Agile has listened . . . and has developed a solution in a timely manner.
Steve Minter, Branch Manager at Kentucky Dept. of Agriculture
Customer Service is Above Normal Standards
Agile FleetCommander has been great since day one. Customer service is above normal standards. Questions are answered and problem areas are corrected quickly. I have enjoyed working with the FleetCommander team and look forward to what I hope is a long and enjoyable relationship with them.
Larry Powles, Manager, Fleet Services and Car Pool at University of Wyoming
Agile is a very professional company who offers great support and who are very easy to work with. They have always been flexible and they take the time to work with us without being too "techie."
Rick Hilmer, Fleet Manager at Prince George's County, MD
On ROI and Cost Reduction..
"The 50 vehicles we cut [using FleetCommander data] were eligible for replacement. It would have cost the county $800,000 to replace those vehicles, not to mention ongoing maintenance and depreciation expenses that would have been associated with those new vehicles. That's a considerable savings."
Forsyth County, North Carolina
"We have completely streamlined how we manage our vehicles by implementing FleetCommander. Our vehicles support workers who serve a vulnerable segment of our community, so we are proud to be able to efficiently offer them the resources they need to accomplish their mission. It's a good feeling."
Charles County, Maryland Department of Social Services
"We are very proud of the more sustainable, effective and efficient management that our Fleet Management division has achieved with the assistance of FleetCommander. In Prince George's County, we strive to not follow best practices but create them. I am very proud of the national recognition of our Fleet Management division and that Prince George's County is leading the nation in innovation."
Prince George's County, Maryland
"Savings started on day one"
"The savings started on day one and we haven't looked back. We grew from five or six shared vehicles to dozens of shared vehicles. The positive feedback from drivers and the bottom-line savings we have realized go beyond expectations."
Greater Toronto Airports Authority
"Finding opportunities to improve"
"FleetCommander will encourage vehicle sharing and utilization efficiencies so that we actually will be able to eliminate vehicles each year from our fleet, despite the higher demands. . . by reducing the number of vehicles we need to add, and by finding opportunities to improve vehicle-sharing capabilities."
"FleetCommander's rigorous data collection capability allows us to generate the utilization reports that take the guesswork out of deciding how many vehicles we actually need. As FleetCommander collects more data in the coming months, it may give LSU AgCenter the opportunity to reduce the number of vehicles. Eliminating the extra costs associated with keeping those vehicles in our fleet will save us a lot of money."
Louisiana State University Agricultural Center
"The Kentucky Cabinets for Energy, Environment and Public Protection (EEC PPC) has reduced their two original motor pools by 28% through the use of FleetCommander fleet and motor pool software solutions."
"A top priority of initiating fleet automation tools is to slash POV mileage reimbursement, which we estimate now costs the county upwards of $350,000. Going to an all-online vehicle reservation process will require drivers to check for the availability of a fleet vehicle first. . . We could buy FleetCommander and a whole fleet of vehicles for what we are spending on POV mileage reimbursement."
"Exactly what was needed"
"The FleetCommander product was exactly what was needed. We now have a fully automated motor pool that is secure and provides complete accountability for access to vehicles. Even better is the fact that we have all of the data and reporting capabilities we need to fully understand how our fleet is being used."
FleetCommander has been a lifesaver
FleetCommander has been a lifesaver for our pool vehicle system. Our utilization and organization have exceeded expectations. . . Now, all our equipment moves are scheduled in FleetCommander.
Eddie Case, Supervisor, Fleet Services at Central Arizona Project
FleetCommander is an excellent product
FleetCommander is an excellent product that I can truly rely on. We greatly increased our utilization and lowered our capital cost. Any time there is an issue they are willing to assist quickly and effectively."
Kevin Rogers, Fleet Manager at Forsyth County, NC
FleetCommander has been a great success for us
We have been using this product at one location for two years. It has been a great success for us. We have an assigned motor pool manager who has been able to take on additional job duties because this product has freed up a lot of his time and means we do not always need a live attendant at the motor pool. We are expanding to a second site which he will be able to manage remotely..."
Rick Hilmer, Fleet Manager at Prince George's County, MD
. . . This is truly a system that has been developed first as a motor pool system and has expanded meaningfully into other functions. Our experience is very positive. [It] is an excellent motor pool system that continues to get better each day . . . the FleetCommander staff are interested in customer input and are agile enough to define the input into a meaningful functional system.
David Ancell, Manager of Motor Pool and Data Operations, State of Michigan
On Ease of Implementation...
"It took us no time at all to get started, and we saw immediate advantages. With FleetCommander, we now use one system instead of three, and billing data is automatically generated when vehicles return. I am so thankful we are using FleetCommander now."
"It has been going GREAT!"
"It has been going GREAT! I have never been involved in the implementation of a new computer system of any sort that has gone this smoothly. I have never had anything that wasn't responded to in a day. Particularly with questions we've had as the staff has started using the system, it's been great to have a response back to questions so promptly. I really feel that being able to get back to staff with solutions quickly helps with acceptance. I have no idea how you guys do it, but I sure appreciate it."
Humboldt County, CA Office of Education
"We were very successful in transferring our travel from three paper forms and two Excel spreadsheets to the FleetCommander system. It has helped us to keep everyone up-to-date, provide better customer service, and be more efficient on usage. The maintenance side has allowed us to be more proactive with preventative maintenance tasks, which we see as important to maintaining the longevity of our fleet."
University of the Cumberlands
"Customer-friendly and professional"
"I have had the honor of working with Phelps, Ian, Matt, and the other well-qualified individuals comprising Agile Fleet's staff. They and you have been more than willing to address issues in a very customer-friendly and professional manner. You all have my unwavering appreciation and thanks. To me, your outfit is a great example of 'Best Practices' and may well serve as a worldwide model."
Richmond Behavioral Health Authority
"Couldn't do my job without it"
In 2007, I was informed that the cumbersome, paper-and-pencil system of scheduling and reserving campus vehicles. . . would become my responsibility as the Fleet Manager. . . . It became clear to me that FleetCommander would seamlessly automate and integrate our vehicle maintenance and reservations. I have been a satisfied customer ever since. . . Makes scheduling and tracking of vehicle rentals and maintenance well organized. Couldn't do my job without it.
Jeff O'Brien, Fleet Manager at Gordon College
. . . It has made a tremendous difference in our transportation department. It is very user-friendly for our customers and allows access for after-hour reservations. This has been a big win-win for our customers and staff. . . We are able to remotely operate 2 additional campuses. . . The reports we generate are fantastic. . . I would highly recommend this software. Saves time, and manpower and increases your profit. The Agile Fleet team is great to work with and made our transition very easy.
Debbie Bond, Transportation Manager at Northeastern State University
Right-sizing our vehicle inventory
"With FleetCommander, we will be reducing costs [and] making it easier and more convenient for state employees to access a vehicle, day or night, using the self-service motor pool kiosk with automated key control. It's a win-win for the state and for our employees. Right-sizing our vehicle inventory by tracking and reporting comprehensive vehicle utilization levels will help us lower our annual motor pool costs."
Convenient Vehicle Registration
"In the past, we've had to take reservations in person or by email, while keeping track of them by hand in a log book. With FleetCommander, our users can reserve a vehicle at their convenience online. . . We have been able to schedule up to three separate reservations for one vehicle in a single day. We were never able to do that before."
"Reservations at a glance"
"With FleetCommander we can see our reservations at a glance and know a vehicle will be ready when we say it will be. That will give us the improved customer service we are striving for."
Northeastern State University Oklahoma
"Our end-users love FleetCommander. If they need to make a change in the middle of the night, they can. If the vehicle they want is not available, it offers the manual-assignment option. It's easy-breezy."
Louisiana State University Agricultural Center
"Best-priced product available"
"The main reasons we chose FleetCommander are that it is the best-priced product available and it has all the features we needed when looking for pool vehicle software. Another reason we chose FleetCommander was because it is an ASP (Application Service Provider), we do not have to host the system and did not have to purchase additional hardware."
"Improved our internal daily rental processes"
"On behalf of the Indiana University Motor Pool, I want to say that we value the FleetCommander system as it has improved our internal daily rental processes for us and our customers. But more importantly, we appreciate the business relationships and the friendships we have been able to build within your company and look forward to continuing to work together in the new year and many years ahead."
"In an era of economic downturn and reduced tax revenues, relying on fragmented legacy systems and "stop-and-go" manual interfaces will simply not be an option for state agencies who wish to remain relevant and be viewed as the best value by the state's citizenry. Our goal is to show [other Agencies] how a report that once took 30 minutes to create will now take 30 seconds with FleetCommander."
The State of West Virginia
". . . We needed a solution for an additional outdoor location that could survive the elements and allow employees to pick up and return vehicle keys. . . day or night. The FleetCommander team delivered what we needed. The bright, full-color kiosk is intuitive for our employees, is available around the clock, and able to withstand weather extremes. . . I'd say that's a success!"
"By incorporating fleet technology into our operations, we are achieving efficiencies we never thought possible, like managing our entire 15-site fleet with total visibility. Now we are able to analyze real-time utilization rates so we can make good decisions about more efficient use of pooled vehicles. With the successes we've had, our plan is to continue to expand to more sites across Michigan."
Automated reservations and key control
"[We have] relied on paper logs, emails, and incoming telephone calls to schedule vehicles for the thousands of DHS employees who have access to the fleet. Automating reservations and dispatching with the FleetCommander unstaffed, secure key control system will enable employees who currently handle those tasks to focus on their non-fleet-related primary duties. Drivers will have access to vehicles 24 x 7. We'll get instant utilization reports. . ."
U.S. Department of Homeland Security
Customers and Staff Love the System
The FleetCommander software is easy to use and customers and staff love the system. The software has increased productivity and accuracy of the university fleet. The system streamlines a number of our processes.
Kathy Wellik,Fleet Manager at Iowa State University
Since we have started using the Agile Fleet Commander system, it has made reservations easier for our employees of the Muscogee Creek Nation to access a motor pool vehicle. We are also able to keep track of the utilization of our vehicles , the drivers habits and trip details of the of the Muscogee Creek Nation and GSA vehicles.
Shane Holuby, Fleet Manager at Muscogee Creek Nation
Found them at a trade show and never looked back
Would highly recommend. Makes our life easier and more efficient. The software is intuitive and easy to use. The FleetCommander team is awesome! Very responsive to the customer and their needs.
Cindy Corbett, Fleet Administrator at Cornell University
Use one program now compared to three in our old system. Go to Meeting training. Contact person readily available and quick response.
Vicky Hines, Administrative Assistant, Fleet Administrator at Cedarville University