FleetCommander's Customer Satisfaction Ratings Soar in NPS® Survey
Fleet & Motor Pool Technology Provider Scores at Top in Fleet Industry; Comparable to Customer Leaders such as Apple Computer, Netflix & Amazon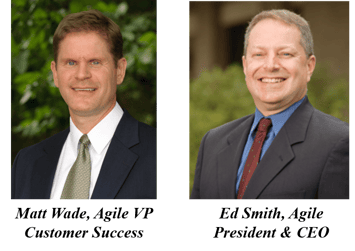 CHANTILLY, VA, October 6, 2016 -- Agile Access Control, Inc., creator of FleetCommander fleet and motor pool solutions announced today that it has achieved an outstanding customer satisfaction rating comparable to those received by iconic brands such as Apple Computer, Netflix and Amazon. The ranking was based on the Net Promoter Score® (NPS) model for standardized customer loyalty metrics.
Agile's recent customer survey resulted in a NPS of 67, which is considered outstanding. Ratings can range between -100 and 100. A score above 50 is considered excellent. Apple Computer, Netflix, and Amazon ratings were 66, 64, and 66 respectively.
"We are gratified to hear from our customers that we are meeting their expectations, but our work doesn't stop there," says Matt Wade, Agile's Vice President of Customer Success. "Our goal is to continue to improve and exceed customer expectations by delivering innovative solutions based on their needs, and remaining customer-centric in everything we do."
Ed Smith, Agile's President and CEO agrees. "We are a company of people we like to call 'approachable innovators.' Our goal is to deliver innovative solutions based on our customer needs, while being the kind of folks that can be reached with a question, comment, or idea by just picking up the phone. Our NPS tells us we are on the right track," says Smith.
The NPS® system is a registered trademark by developer Fred Reichheld, Bain & Company and Satmetrix and is used by more than two thirds of Fortune 1000 companies.
---

About Agile Access Control, Inc.
FleetCommander creator Agile Access Control, Inc. (Agile) is a leading fleet technology company which serves fleet and motor pool managers in the university, government, utility, non-profit, and commercial sectors. Agile's FleetCommander software is a powerful, highly configurable, web-based application that streamlines the use of vehicles through easy-to-use software, and presents real-time data in the form of intuitive dashboards, graphs, gauges, online forms, and a wide variety of reports. The suite of FleetCommander technology tools includes car sharing technology that offers online vehicle reservations, unstaffed check-in at kiosks, secure key control and key boxes; in-vehicle utilization and diagnostic devices; GPS solutions, and much more - all tied into the FleetCommander fleet and motor pool software. Resulting in lower vehicle and personnel costs and higher customer satisfaction, FleetCommander can be used as a stand-alone, customized fleet management system or integrated with an organization's existing fleet systems. FleetCommander is available for direct purchase without the need to solicit competitive bids by states, cities, counties, all government agencies, both public and non-public educational agencies, colleges, universities, and non-profit organizations via the National Joint Powers Alliance (NJPA) national contract and GSA Schedule. For more information, contact Agile Fleet at (571) 498-7555 x1 or info@agilefleet.com or visit http://www.agilefleet.com.