Agile Fleet Establishes New Customer Success Group
Agile makes further strategic investment in its "customer-centric" focus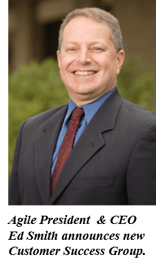 CHANTILLY, VA, August 9, 2016 -- Agile Access Control, Inc. (Agile), creator of FleetCommander fleet and motor pool technologies, announces the formation of its new corporate group: Agile's Customer Success Group. The announcement was made today by the Chantilly, VA-based fleet management technology company.
"Creating an entirely new corporate group dedicated to the success of our customers is a major commitment of time and resources. But it's clear. When our customers succeed, we succeed," says Agile President Ed Smith. "We see this as a critical step toward serving our customers well beyond our traditional implementation and technical support roles. We strive to be a company of approachable innovators," says Smith. Having a steadfast focus on aligning our staff and our product offering with our customers' success is one more way to achieve that goal. Through every dialogue, our customers make us a better company and we help them achieve their goals."
Agile's Matt Wade, formerly V.P. of Sales, will take the helm as the first Vice President of the newly formed group. Wade, who has served as Agile's Vice President of Sales since 2001, is an expert in fleet technology and best practices. "I am excited to take on this new challenge," says Wade. "It's been very rewarding to bring solutions to customers all these years. My team and I are looking forward to helping customers, both long-term and new, take their successes to the next level."
The Agile Customer Success Group will benefit Agile customers by providing:
Proactive expert analyses of customer fleet management and right-sizing goals and objectives
Regular customer site visits and meetings to discuss evolving fleet challenges and goals
Strategic recommendations for improving initiatives and achieving the maximum benefit from FleetCommander services and solutions
Expanded communication between customers and the Agile product development team to continually ensure Agile product offerings are meeting the needs of the changing industry
A dedicated, executive-level primary point of contact and champion for any customer needs, issues or concerns
A dedicated customer blog, e-books, guides, and other documents that will help customers derive the most benefit from FleetCommander technologies
Opportunities for customer product feedback via user group meetings
... and more.
With the formation of a Customer Success Group, Agile joins a growing list of high-profile companies such as Marketo, HubSpot, Lyris, Affectiva, Clarizen, WordStream, Zenprise, Affgoo, Jobvite, Zuberance, and SLI Systems, to name a few, who have also created similar groups within their successful organizations.
---

About Agile Access Control, Inc.
FleetCommander creator Agile Access Control, Inc. (Agile) is a leading fleet technology company which serves fleet and motor pool managers in the university, government, utility, non-profit, and commercial sectors. Agile's FleetCommander software is a powerful, highly configurable, web-based application that streamlines the use of vehicles through easy-to-use software, and presents real-time data in the form of intuitive dashboards, graphs, gauges, online forms, and a wide variety of reports. The suite of FleetCommander technology tools includes car sharing technology that offers online vehicle reservations, unstaffed check-in at kiosks, secure key control and key boxes; in-vehicle utilization and diagnostic devices; GPS solutions, and much more - all tied into the FleetCommander fleet and motor pool software. Resulting in lower vehicle and personnel costs and higher customer satisfaction, FleetCommander can be used as a stand-alone, customized fleet management system or integrated with an organization's existing fleet systems. FleetCommander is available for direct purchase without the need to solicit competitive bids by states, cities, counties, all government agencies, both public and non-public educational agencies, colleges, universities, and non-profit organizations via the National Joint Powers Alliance (NJPA) national contract and GSA Schedule. For more information, contact Agile Access Control, Inc. at 408-213-9555 x1 or info@agilefleet.com or visit http://www.agilefleet.com.