Agile Access Control, Inc. Expands Executive Staff

Professionals focus on providing exceptional customer experience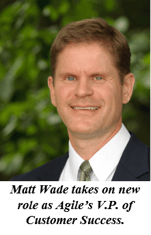 CHANTILLY, VA, July 28, 2016 -- Agile Access Control, Inc., (Agile) creator of FleetCommander fleet and motor pool technologies, announces the expansion of its executive staff by appointing Matt Wade Vice President of its newly-formed Customer Success Group, and Dan Fitzpatrick Chief Sales Officer. The announcement was made today by the Chantilly, VA-based fleet management technology company.
Matt Wade has been on the Agile executive team for more than 14 years in the Vice President of Sales role, working with fleets within higher education, federal, state, county, and local governments, and the utility, commercial, and private sectors. His new role as Vice President of Customer Success will deepen his connection with FleetCommander customers, as he and his team direct their energies toward ensuring that customers fully achieve the benefits of using FleetCommander technologies. Wade is an expert in project management, requirements elicitation, data analysis, and fleet management best practices.
"I am excited to bring my many years of working with fleets to this new role of helping our customers dig in and get the most out of FleetCommander. Fleets can be complex organizations and I'm proud that we as a company have committed to helping our customers continuously improve their operations," says Wade. "I am looking forward to the new challenges that lie ahead."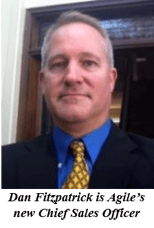 Dan Fitzpatrick will lead the Agile Sales team as Chief Sales Officer. Fitzpatrick brings nearly 20 years of demonstrated success at all levels of sales, sales logistics and sales leadership, with more than half in business software sales. He excels in go-to market strategies, market analytics, forecasting, P&L accountability, channel sales strategy, business development, territory management, financial analysis, talent development, and team building. Fitzpatrick holds a Bachelor of Applied Science in Marketing from the University of Maryland.
"I'm thrilled to be a part of the Agile executive team," Fitzpatrick says. "I look forward to helping Agile bring FleetCommander to enterprises who need a smarter way to manage their fleets. It is a fantastic product that brings amazing benefits to our customers – all of which makes my job easy," he says.
---

About Agile Access Control, Inc.
FleetCommander creator Agile Access Control, Inc. (Agile) is a leading fleet technology company which serves fleet and motor pool managers in the university, government, utility, non-profit, and commercial sectors. Agile's FleetCommander software is a powerful, highly configurable, web-based application that streamlines the use of vehicles through easy-to-use software, and presents real-time data in the form of intuitive dashboards, graphs, gauges, online forms, and a wide variety of reports. The suite of FleetCommander technology tools includes car sharing technology that offers online vehicle reservations, unstaffed check-in at kiosks, secure key control and key boxes; in-vehicle utilization and diagnostic devices; GPS solutions, and much more - all tied into the FleetCommander fleet and motor pool software. Resulting in lower vehicle and personnel costs and higher customer satisfaction, FleetCommander can be used as a stand-alone, customized fleet management system or integrated with an organization's existing fleet systems. FleetCommander is available for direct purchase without the need to solicit competitive bids by states, cities, counties, all government agencies, both public and non-public educational agencies, colleges, universities, and non-profit organizations via the National Joint Powers Alliance (NJPA) national contract and GSA Schedule. For more information, contact Agile Access Control, Inc. at 408-213-9555 x1 or info@agilefleet.com or visit http://www.agilefleet.com.