Agile Fleet & NAFA Provide Vehicle Utilization Guide
Achieving a "Right-Sized Fleet" is the major focus of all-new guide written by experts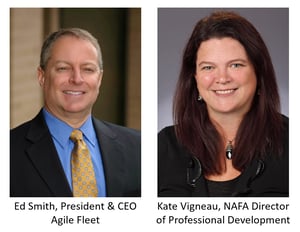 CHANTILLY, VA, April 15, 2019 -- Agile Fleet, in cooperation with NAFA Fleet Management Association, announces the release of its comprehensive E-Book titled The Ultimate Guide to Understanding Fleet Utilization & Achieving a Right-Sized Fleet. The E-book was written by fleet utilization expert Ed Smith, President and CEO of Agile Fleet, and Kate Vigneau, President, KMVS Fleet Consulting, who serves as NAFA's Director of Professional Development. It includes "how-to" guidance for completing a fleet utilization study as well as case studies and success stories from many public and private fleet managers.
"Our goal for this guide was to provide the ultimate resource to help organizations achieve the 'holy grail' of fleet management: a right-sized fleet. The size of a fleet directly impacts its ability to complete one's mission, while clearly having a significant impact on an organization's financial bottom-line. Too few vehicles and you can't get work done, too many vehicles and you're burning money needlessly. The key is to have the 'right' utilization when it comes to your fleet," says Smith.
"The subject of fleet utilization has always been a topic of great interest to fleet managers, and there is a need in the industry for a resource that addresses it in-depth; this book meets that objective," says Vigneau. "In fact, several of the fleet managers featured in this eBook have earned their Certified Automotive Fleet Manager certifications from NAFA, demonstrating their mastery of these skills."
The 44-page Ultimate Guide to Understanding Fleet Utilization & Achieving a Right-Sized Fleet covers:
Utilization basics: fleet utilization defined, and key metrics identified
Fleet Utilization Studies: Baselining, setting targets, affecting change, and continuous improvement
The importance of fleet policy relative to utilization
Discrete initiatives to consider that will improve fleet utilization
How to disband department fleets to optimize utilization
The role of telematics and GPS
Resources, case studies, and tip sheets dedicated to the topic of fleet utilization
The book will be officially released during the NAFA Institute & Expo, April 15-17, 2019 in Louisville, KY this week. You can access your copy here.
---

About Agile Fleet
Headquartered in the Washington, D.C. area, Agile Fleet is a fleet management solutions company that serves the government, university, utility, non-profit, and commercial sectors. Agile Fleet's software, hardware and services enable organizations to efficiently manage all aspects of drivers and vehicles to reduce costs, save time, and improve service. Agile Fleet's flagship product, FleetCommander, delivers the automated management of fleet maintenance, motor pools, vehicle keys, GPS & telematics, fuel, and risk. Additional services provided by Agile Fleet include seamless integration with other systems, fleet efficiency analysis, in-depth technical support, fleet consulting, and much more.

For more information, contact Agile Fleet at (571) 498-7555 x1 or Ed Smith, esmith@agilefleet.com or visit http://www.agilefleet.com.

About NAFA Fleet Management Association
NAFA Fleet Management Association is the membership organization for professionals who manage the mobility requirements and vehicle fleets of sedans, public safety vehicles, trucks, and buses of all types and sizes; and a wide range of military and off-road equipment for corporations, governments, universities, utility fleets, and law enforcement in North America and across the globe. NAFA's members are responsible for the specification, acquisition, maintenance, repair, fueling, risk management, and remarketing of more than 4.6 million vehicles that drive an estimated 50 billion miles each year. NAFA's members control assets and services well in excess of $100 billion each year. For more information, please visit www.nafa.org, and communicate with NAFA on LinkedIn, Facebook, Twitter, and YouTube.

About NAFA's Institute & Expo
NAFA's annual Institute & Expo conference is the largest gathering of fleet and mobility managers. The event program, created by fleet managers for fleet managers, features fleet training sessions, education, and workshops; and an Expo floor with more than 250 companies showcasing their products and services. The 2019 Institute & Expo is April 15-17, in Louisville, Ky. More information can be found at http://www.nafainstitute.org/.