Agile Fleet's Smith & Forsyth County's Rogers to speak at Conference
Presentation to address vehicle sharing for mobility and motor pool management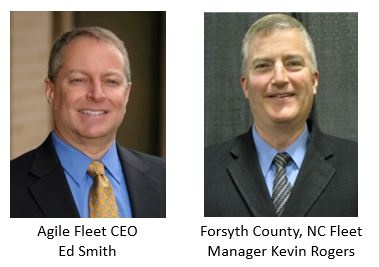 CHANTILLY, VA, October 3, 2017 -- Agile Fleet's Ed Smith will be a featured speaker alongside Fleet Manager Kevin Rogers of Forsyth County, NC and other panelists at the upcoming Sustainable Fleet Technology Conference and Expo to be held October 11-13, 2017 in Raleigh, NC. The announcement was made today by Agile Fleet, creator of the FleetCommander fleet management information system.
"We are honored to be presenting side by side with Forsyth County at this outstanding event. Forsyth County's vehicle sharing operation is an inspiring example of how organizations can optimize their fleets by sharing motor pool vehicles efficiently. They have a great story of how they transitioned from cumbersome spreadsheets and logbooks to a fully automated system. I look forward to discussing the role fleet technology played in their success," says Smith. "Due to the cost-savings achieved through optimization, and analysis of fleet metrics regarding vehicle use, the County has been able to transition to newer, more energy-efficient vehicles. It's a win-win for the county and for the environment."
Smith and Rogers will join other panelists to present "Vehicle Sharing for Fleet Optimization" on Wednesday, October 11 at 2:15 p.m. at the Raleigh Convention Center in Raleigh, NC. The event, which is organized by the NC Clean Energy Technology Center, NC State University, and State of North Carolina's DOT, will feature more than 50 speakers, 12 breakout sessions, and exhibits. For more information about the Sustainable Fleet Technology Conference and to register, visit www.SustainableFleetExpo.com.
---

About Agile Fleet
Headquartered in the Washington, D.C. area, Agile Fleet is a fleet management solutions company that serves the government, university, utility, and commercial sectors. Agile Fleet's software, hardware and services enable organizations to efficiently manage all aspects of drivers and vehicles to reduce costs, save time, and improve service. The industry's best value in fleet management, Agile Fleet solutions delivers extensive functionality at an affordable price. Agile Fleet's flagship product, FleetCommander, delivers the automated management of fleet maintenance, motor pools, vehicle keys, GPS & telematics, fuel, and risk. Additional services provided by Agile Fleet include seamless integration with other systems, fleet efficiency analysis, in-depth technical support, fleet consulting, and much more.

Agile Fleet solutions are available for direct purchase without the need to solicit competitive bids by states, cities, counties, all government agencies, both public and non-public educational agencies, colleges, universities, and non-profit organizations via the National Joint Powers Alliance (NJPA) national contract and GSA Schedule.

For more information, contact Agile Fleet at (571) 498-7555 x1 or visit http://www.agilefleet.com.