Montgomery County and City of Boise Win Fleet Industry Awards

Awards recognize operations that are performing at a high level of leadership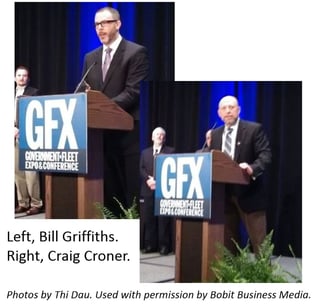 CHANTILLY, VA, June 10, 2015 -- Two FleetCommander customers received prestigious awards today at the Government Fleet Expo (GFX) conference in Denver, Colorado. Bill Griffiths of Montgomery County, Md. was named Public Sector Fleet Manager of the Year. Also honored was the City of Boise, Idaho, which was chosen as overall No. 1 fleet among leading fleets in the U.S. On hand to accept the award on behalf of the Boise fleet was Craig Croner, manager of administrative services, and Dennis Falconer, vehicle maintenance division manager. Read the full Government Fleet articles here.
"We want to extend our warmest congratulations to Bill, Craig, and Dennis for the outstanding achievements that led to these awards. They are well-deserved and we couldn't be happier for them," says Ed Smith, president of Agile.
---
About Agile Access Control, Inc.
FleetCommander creator Agile Access Control, Inc. is a technology company headquartered in Chantilly, Va., which serves fleet and motor pool managers in the university, government, utility and commercial sectors. Agile's FleetCommander software is a powerful, highly configurable, web-based application that streamlines the use of vehicles through easy-to-use software, and presents real-time data in the form of intuitive dashboards, graphs, gauges, online forms, and a wide variety of reports. The suite of FleetCommander technology tools also includes Agile FleetShare™, car sharing technology that offers keys-in-the-car access to geographically dispersed vehicles with a scanned ID card at the windshield; unstaffed check-in at kiosks, secure key control and key boxes; in-vehicle utilization and diagnostic devices; GPS solutions, and much more--all tied into the FleetCommander fleet and motor pool software. Resulting in lower vehicle and personnel costs and higher customer satisfaction, FleetCommander can be used as a stand-alone, customized fleet management system or integrated with an organization's existing fleet systems. For more information, contact Agile Access Control, Inc. at 408-213-9555 x1 or info@agilefleet.com or visithttp://www.agilefleet.com.