Sonoma County Human Services Department Successfully Automates Fleet

Case workers applaud ease of use and around-the-clock accessibility to vehicles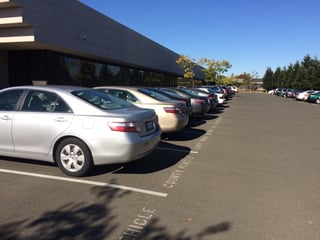 CHANTILLY, VA, November 19, 2015 -- Since implementing fleet automation technologies nearly three years ago, the Sonoma County Human Services Department (HSD) of California has achieved its goals of improving vehicle management and efficiency, and enabled workers to better serve their at-risk clients. Details of the Department's fleet automation initiative are included in a new case study just released by Agile Access Control, Inc., creator of FleetCommander fleet and motor pool technologies implemented at the Sonoma County Human Services Department.
"The transformation of our fleet management and motor pools has significantly improved the efficiency in which we are able to serve our clients. Costs are reduced and we can focus on the important business at hand – serving an at-risk population. We have much more freedom to access vehicles, and using the motor pool now is hassle-free," says George Malachowski, Sonoma County HSD.
Late in 2012, the Sonoma County Human Services Department selected Agile's FleetCommander fleet and motor pool technologies to assist them with automating their internal motor pool processes. The Human Services Department Family, Youth, and Children's Services Division was the first to automate their fleet and motor pool. The Family, Youth and Children's Services Division works with individuals and the community to ensure the safety and well-being of children and youth. Staff provides protective and supportive social services to families in which children are at risk. The HSD has achieved significant personnel time savings as a result of the FleetCommander online reservation system, automated key boxes, and minimized staff interactions related to managing reservations, dispatching, and vehicle usage reporting. As a result, HSD fleet staff has the time to attend to other important business.
Metrics collected by FleetCommander enable fleet staff to monitor shortages in vehicles, and rotate between high- and low-usage vehicles. Data collected also identifies vehicle demands throughout the Department and enables them to almost eliminate personal vehicle usage reimbursement costs. Social services organizations, in particular, need to manage their fleet resources as efficiently as possible because they assist an at-risk population that frequently must be served during non-business hours. The Sonoma County Human Services Department is no different. Automating the usage and management of motor pool vehicles via FleetCommander fleet and motor pool software helped HSD by:
Enabling them to better meet the needs of their clients by providing access motor pool vehicles 24 x 7 (without the need for staff to be present)
Freeing up staff time by automating the paper and manual processes; cutting time spent assigning vehicles to drivers; and reviewing, approving, and managing reservation requests
Reducing budget overruns for personal mileage reimbursement for private vehicle use
Enabling them to rotate vehicles so that vehicles are properly utilized, and unneeded vehicles are identified and eliminated
Helping workers to comply with policies requiring them to transport clients in county vehicles (including frequent short trips) and collect the data needed to assess utilization
Enabling them to automatically communicate and enforce the Department's internal vehicle usage policies and best practices via the online reservation process
For more information about the Sonoma County Human Services Department's fleet automation initiative, download our new case study.
---

About Agile Access Control, Inc.
FleetCommander creator Agile Access Control, Inc. is a technology company headquartered in Chantilly, Va., which serves fleet and motor pool managers in the university, government, utility and commercial sectors. Agile's FleetCommander software is a powerful, highly configurable, web-based application that streamlines the use of vehicles through easy-to-use software, and presents real-time data in the form of intuitive dashboards, graphs, gauges, online forms, and a wide variety of reports. The suite of FleetCommander technology tools also includes Agile FleetShare™, car sharing technology that offers keys-in-the-car access to geographically dispersed vehicles with a scanned ID card at the windshield; unstaffed check-in at kiosks, secure key control and key boxes; in-vehicle utilization and diagnostic devices; GPS solutions, and much more--all tied into the FleetCommander fleet and motor pool software. Resulting in lower vehicle and personnel costs and higher customer satisfaction, FleetCommander can be used as a stand-alone, customized fleet management system or integrated with an organization's existing fleet systems. FleetCommander is available for direct purchase without the need to solicit competitive bids by states, cities, counties, all government agencies, both public and non-public educational agencies, colleges, universities, and non-profit organizations via the National Joint Powers Alliance (NJPA) national contract and GSA Schedule. For more information, contact Agile Access Control, Inc. at 408-213-9555 x1 or info@agilefleet.com or visit http://www.agilefleet.com.