State of Louisiana Launches Fleet Technology Initiative

State to use GPS technology and fleet metrics to reduce unneeded vehicles and save fuel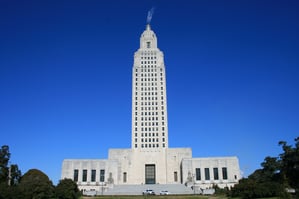 CHANTILLY, VA, September 1, 2015 -- The State of Louisiana is partnering with FleetCommander software creator Agile Access Control, Inc., (Agile) to automate the vehicle reservations and dispatching of fleet managed vehicles throughout the state. Agile teamed with GPS Insight, LLC, who was selected to provide the GPS tracking solution sought by the state. The announcement was made today by Agile.

The state's RFP said that the goal of the procurement was to identify a hosted, internet-accessible GPS and vehicle sharing reservation system aimed at improving the current motor pool operations and accessibility, making the proper alignment of fuel-efficient vehicles to the required need, and enhancing transportation options for state employees. Louisiana will now offer state employees access to keys and vehicles via secure key control technology, without the need for staff to be present to hand out keys. Vehicle utilization and other fleet metrics will be collected automatically via the FleetCommander system, enabling the state to get a clear picture of their fleets' usage and identify opportunities to save money.

"This initiative is a huge win for the taxpayers of Louisiana. The State's approach of using data from the GPS solution to identify the most optimum location for automated, centralized pools is innovative and very forward-thinking. The State has done their homework on this one. Their approach is about as smart as I've ever seen." said Ed Smith, president of Agile. Robert Donat, CEO and Founder of GPS Insight agreed. "From the onset, the State has had a clear vision for how to save money. The combination of GPS solutions combined with automated methods for sharing vehicles is perfect for achieving the cost-savings goal. We look forward to being part of their success." GPS Insight is the leading technology provider of GPS tracking software for businesses with vehicles and other mobile assets.
---

About Agile Access Control, Inc.
FleetCommander creator Agile Access Control, Inc. is a technology company headquartered in Chantilly, Va., which serves fleet and motor pool managers in the university, government, utility and commercial sectors. Agile's FleetCommander software is a powerful, highly configurable, web-based application that streamlines the use of vehicles through easy-to-use software, and presents real-time data in the form of intuitive dashboards, graphs, gauges, online forms, and a wide variety of reports. The suite of FleetCommander technology tools also includes Agile FleetShare™, car sharing technology that offers keys-in-the-car access to geographically dispersed vehicles with a scanned ID card at the windshield; unstaffed check-in at kiosks, secure key control and key boxes; in-vehicle utilization and diagnostic devices; GPS solutions, and much more--all tied into the FleetCommander fleet and motor pool software. Resulting in lower vehicle and personnel costs and higher customer satisfaction, FleetCommander can be used as a stand-alone, customized fleet management system or integrated with an organization's existing fleet systems. For more information, contact Agile Access Control, Inc. at 408-213-9555 x1 or info@agilefleet.com or visit http://www.agilefleet.com.