Vassar College captures nearly 30% more in motor pool usage charges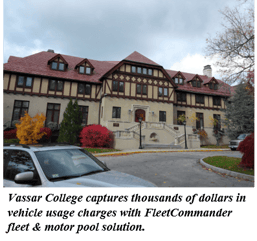 CHANTILLY, VA, January 27, 2017 -- Vassar College is now able to bill for nearly 30% more vehicle usage since implementing the FleetCommander fleet management solution four months ago. The announcement was made today by Agile Fleet, creator of FleetCommander currently in place at the college.
"Now that we can accurately keep track of mileage being put on our vehicles, we can bill for thousands of dollars of usage we were not previously able to capture," says Sal Incorvaia, manager of the Vassar motor pool. "The system helps us keep track of mileage much better than ever before."
FleetCommander is enabling Vassar to free up staff resources by automating many processes that were once handled manually. With the new fleet technology in place, Vassar is now able to:
Manage drivers and vehicles online from their own fleet website
Communicate and enforce fleet policies automatically
Offer drivers online vehicle scheduling capability while eliminating paper and administrative resources re-typing information into their aging FileMaker application
Easily control access to vans for students that have not passed the van safety training class
Manage dispatching online
Save time and reduce errors by automatically calculating vehicle use charges at the conclusion of the reservation
Automatically collect usage data to help identify right-sizing opportunities for changing the quantity or composition of the college's fleet and attain efficiency goals
Save staff time by keeping track of who submitted, approved, changed, or canceled vehicle requests online
Receive alerts of near-due or overdue preventative maintenance tasks
Have access to dozens of utilization, reservation, billing, maintenance, vehicle, and user reports
"We are happy to see Vassar achieving success so quickly, but we aren't surprised. Many of our customers realize costs savings and efficiencies even during a 30-day trial period," says Ed Smith, president and CEO of Agile Fleet. "We look forward to seeing Vassar continue to grow their ROI and achieve many more benefits in the months and years to come."
---

About Agile Fleet
Headquartered in the Washington, D.C. area, Agile Fleet is a fleet management solutions company that serves the government, university, utility, and commercial sectors. Agile Fleet's software, hardware and services enable organizations to efficiently manage all aspects of drivers and vehicles to reduce costs, save time, and improve service. The industry's best value in fleet management, Agile Fleet solutions delivers extensive functionality at an affordable price. Agile Fleet's flagship product, FleetCommander, delivers the automated management of fleet maintenance, motor pools, vehicle keys, GPS & telematics, fuel, and risk. Additional services provided by Agile Fleet include seamless integration with other systems, fleet efficiency analysis, in-depth technical support, fleet consulting, and much more.
Agile Fleet solutions are available for direct purchase without the need to solicit competitive bids by states, cities, counties, all government agencies, both public and non-public educational agencies, colleges, universities, and non-profit organizations via the National Joint Powers Alliance (NJPA) national contract and GSA Schedule.
For more information, contact Agile Fleet at (571) 498-7555 x1 or visit http://www.agilefleet.com.