Vassar College selects FleetCommander to achieve success

College to manage drivers and 35 shared vehicles from its own motor pool website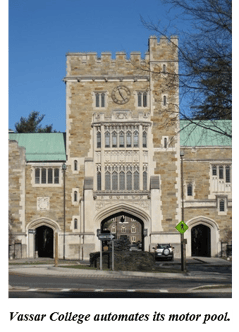 CHANTILLY, VA, August 2, 2016 -- Vassar College has selected FleetCommander fleet and motor pool technologies to automate their motor pool management processes, collect the data needed to make fleet right-sizing decisions, and improve service provided to faculty, staff, and students. The announcement was made today by Agile Access Control, Inc. (Agile), creator of FleetCommander.
FleetCommander will enable Vassar to free up staff resources by automating many processes now handled manually. With the new fleet technology in place, Vassar will be able to:
Manage drivers and vehicles online from their own fleet website
Communicate and enforce fleet policies automatically
Offer drivers online vehicle scheduling capability while eliminating paper and administrative resources re-typing information into their aging FileMaker application
Easily control access to vans for students that have not passed the van safety training class
Manage dispatching online
Save time and reduce errors by automatically calculating vehicle use charges at the conclusion of the reservation
Automatically collect the usage data to help identify opportunities to change the quantity or composition of the college's fleet for right-sizing and to attain efficiency goals
Save staff time by keeping track of who made, approved, changed, or deleted vehicle requests online
Automatically be warned of near-due or overdue preventative maintenance tasks
Have access to dozens of utilization, reservation, billing, maintenance, vehicle, and user reports
"Roughly 40% of FleetCommander users are institutions of higher education. We believe this segment has grown tremendously because we have developed our product to address the unique challenges faced by this market segment, including serving a diverse population and strict budget constraints. We're confident Vassar College will follow in the footsteps of the many universities and colleges that have achieved significant savings and efficiencies by automating their fleet management," says Ed Smith, president and CEO of Agile.
---

About Agile Access Control, Inc.
FleetCommander creator Agile Access Control, Inc. (Agile) is a technology company which serves fleet and motor pool managers in the university, government, utility, non-profit, and commercial sectors. Agile's FleetCommander software is a powerful, highly configurable, web-based application that streamlines the use of vehicles through easy-to-use software, and presents real-time data in the form of intuitive dashboards, graphs, gauges, online forms, and a wide variety of reports. The suite of FleetCommander technology tools also includes unstaffed check-in at kiosks, secure key control and key boxes; in-vehicle utilization and diagnostic devices; GPS solutions, and much more - all tied into the FleetCommander fleet and motor pool software. Resulting in lower vehicle and personnel costs and higher customer satisfaction, FleetCommander can be used as a stand-alone, customized fleet management system or integrated with an organization's existing fleet systems. FleetCommander is available for direct purchase without the need to solicit competitive bids by states, cities, counties, all government agencies, both public and non-public educational agencies, colleges, universities, and non-profit organizations via the National Joint Powers Alliance (NJPA) national contract and GSA Schedule. For more information, contact Agile Access Control, Inc. at 408-213-9555 x1 or info@agilefleet.com or visit http://www.agilefleet.com.