Former State of Iowa Fleet Services Coordinator Joins Agile Fleet
Helen Lagerblade offers real-world fleet management experience to team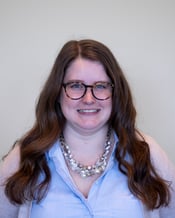 CHANTILLY, VA, January 23, 2020 -- Former State of Iowa Fleet Services Coordinator Helen Lagerblade has joined Agile Fleet's growing Technical Support team. In her new role, Lagerblade assists clients with tier 1 and tier 2 technical support matters, helps support GPS and key control technology, and assists with testing and fulfillment related to new customer launches. The announcement was made today by Agile Fleet.
"We are thrilled to have Helen on board to offer her FleetCommander technical expertise to our clients on day one. Her presence will help support our recent unprecedented growth across all fleet segments, including universities, government, utilities, and non-profits. Her real-world experience supporting the State of Iowa's fleet makes her an ideal person to assist our clients. She has already proven to be a strong, customer-focused part of our team," says Agile Fleet President Ed Smith.
Ms. Lagerblade says, "It is gratifying to help Agile Fleet clients optimize the use of their fleets with FleetCommander technology. As a prior customer, I always admired the customer-centric culture of the Agile Fleet team. Now I'm a part of it. It's my goal to make a difference with every client interaction I have and plan to continue the tradition of excellence Agile's customer support team is known for." In her former role at the State of Iowa Fleet Services, Lagerblade was responsible for managing driver records, fleet data analysis, motor pool management and user training, issuing maintenance and repair purchase orders, and service vendor management.
---
About Agile Fleet
Headquartered in the Washington, D.C. area, Agile Fleet is a fleet management solutions company that serves the government, university, utility, non-profit, and commercial sectors. Agile Fleet's software, hardware and services enable organizations to efficiently manage all aspects of drivers and vehicles to reduce costs, save time, and improve service. Agile Fleet's flagship product, FleetCommander, delivers the automated management of fleet maintenance, motor pools, vehicle keys, GPS & telematics, fuel, and risk. Additional services provided by Agile Fleet include seamless integration with other systems, fleet efficiency analysis, in-depth technical support, fleet consulting, and much more.

For more information, contact Agile Fleet at (571) 498-7555 x1 or Ed Smith, esmith@agilefleet.com or visit http://www.agilefleet.com.