Forsyth County Fleet Manager is Professional Fleet Manager of the Year
Award recognizes exceptional leadership and management of public sector fleets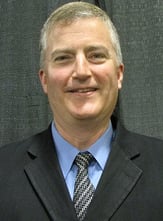 CHANTILLY, VA, August 23, 2018 -- Kevin Rogers, Fleet Manager of the County of Forsyth, Winston-Salem, North Carolina, has received the Professional Manager of the Year award for a public fleet from the American Public Works Association (APWA). APWA's Professional Manager of the Year Award in the Public Fleet category recognizes the outstanding career service achievements of public fleet management professionals. The primary focus of this award is the recognition of exceptional leadership and management.
In his role of Fleet Manager for the County of Forsyth, Rogers is responsible for managing and directing the operations of the County's Fleet Services Division which consists of 600-plus assets. He was recognized by the APWA because of his outstanding performance managing the County's maintenance operations, monitoring fleet maintenance costs, purchasing vehicles and equipment, advising other departments of potential replacements, all while maintaining best practices in the area of right-sizing and efficiency. APWA also recognized Rogers' efforts researching new technologies and serving on committees in the county to further improve the efficiencies and safety of the employees.
Rogers provides management, leadership, and professionalism by staffing, directing, coordinating, reporting, and budgeting, which supports the provision of services via the Fleet Services Division. APWA's award annoucement says that Rogers is always seeking opportunities to develop professional and technically. His active participation in the APWA North Carolina Chapter as a member and a director on the Equipment Services Board has offered a variety of growth and development options for him and he has taken advantage of every feasible opportunity that has come his way. His active involvement in the North Carolina Chapter has afforded him opportunities to present his experiences on a broader platform as he is sought by vendors to share his story of implementing products and strategies. The most recent occurrence of this was in June, 2017 at the chapter's Annual State Conference in Greenville, North Carolina.
Since joining the County of Forsyth as Fleet Manager in 2008, the county has taken substantial strides to reduce costs, saving the county a significant amount of money over the past ten years. "When I started here, every organization was being asked to cut costs. When we analyzed the fleet, the first thing that struck us was that we had very limited metrics to measure fleet utilization," says Rogers. "We knew that if we could efficiently share vehicles we could eliminate underused vehicles and reduce costs."
Using Agile Fleet fleet management technologies, Rogers expanded the use of motor pools and automated the entire vehicle sharing process. "When we first started, we shared 25 vehicles. It took three people to manage them because the process was all manual – reservations were handwritten on spreadsheets. We handed out and collected keys manually. Drivers had to come to our facility during business hours to get keys and we had a staff member dedicated to handling it." Rogers made the decision to upgrade the county's manual processes using fleet technology.
Rogers says making a business case for spending money on motor pool technology was one of the easier cases to make. "The carrying cost of a vehicle is on the magnitude of $5,000 per year per vehicle. When we began the process, we estimated we could eliminate at least 30 vehicles immediately if we had an efficient way for county employees to share. We estimated that if we reduce our fleet by 30 vehicles, we would save $150,000 immediately by avoiding the $5,000 per vehicle maintenance and insurance costs. We also brought in additional funds to the county by selling unneeded vehicles," says Rogers.
The county also reduced costs by creating a policy that was enforced by the automated system. The policy required employees to use pool vehicles instead of their personal vehicles for official business as much as possible. This helped them to reduce reimbursements to employees who used personally-owned vehicles (POVs) for county business by 50%, saving more than $50,000 per year. Rogers says, "Before our motor pool implementation, our yearly expenditure for POV was approximately $125,000. We cut it to approximately $57,000."
Sharing vehicles among departments and extending vehicle availability to staff has also led to savings. In the past, only a select few departments were assigned vehicles and the smaller departments used personally-owned vehicles. With the Government Center motor pool, several departments are now served by a single motor pool.
Rogers says the transition from a manual to an automated system took just over 100 days. "Getting our users accustomed to the system was easy. The capital expenditure savings of not having to replace vehicles is over $800K. We checked our utilization data daily, and within six months we eliminated ten more vehicles. Now that we have a full view of our motor pool, we've actually been able to put some additional vehicles in pools to accommodate county growth."
---

About Agile Fleet
Headquartered in the Washington, D.C. area, Agile Fleet is a fleet management solutions company that serves the government, university, utility, and commercial sectors. Agile Fleet's software, hardware and services enable organizations to efficiently manage all aspects of drivers and vehicles to reduce costs, save time, and improve service. The industry's best value in fleet management, Agile Fleet solutions delivers extensive functionality at an affordable price. Agile Fleet's flagship product, FleetCommander, delivers the automated management of fleet maintenance, motor pools, vehicle keys, GPS & telematics, fuel, and risk. Additional services provided by Agile Fleet include seamless integration with other systems, fleet efficiency analysis, in-depth technical support, fleet consulting, and much more.

For more information, contact Agile Fleet at (571) 498-7555 x1 or Ed Smith, esmith@agilefleet.com or visit http://www.agilefleet.com.