Core Values are Fundamental to Business Excellence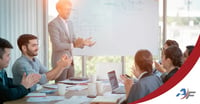 Core values declare the beliefs, priorities, and expectations of a business, organization, or institution.
When I work with companies, I want to know what they stand for. I want to know how far they will go to fulfill their promises, and what lines they refuse to cross. I want to have a sense of how these companies treat their employees because this reflects how they will treat their clients. I want to know what their core values are.
I thought I would share with you a little bit more about who we are as a company.
I think the best place to start is with our core values.
What Are Core Values?
There are several ways to describe them, but I think a clear description is to think of them as bricks within a foundation. Each of these represents the strong base upon which our company is built. These not only describe a company's culture, but also a company's ethics, and even its moral code.
In early 2020, after analyzing our team, our clients, and our partners, Agile Fleet developed core values for the company. These core values are a timeless set of guiding principles that define the behaviors we expect from each other and from our partners, clients, and associates. They define our culture and guide our business decisions. They define what makes our company different and unique. It is a public statement and an internal policy all at the same time.
What Core Values Support
Like bricks in a foundation, each core value supports the next, providing structure upon which our company, and partnering clients through this relationship, can grow together. The long and short of it is, core values let you know who you are doing business with. It sets expectations on both sides, for the provider and the client.
Agile Fleet's core values are:
Strong Partnerships - Building and maintaining strong partnerships is the foundation of our success.
Initiative - We take responsibility for our roles. We're proactive and we think outside the box.
Approachability - We are friendly, unpretentious, and welcoming.
Integrity - We are trustworthy, fair, and ethical, and we expect the same from our colleagues, clients, and partners.
Flexibility - We are Agile. We happily adapt to changing priorities and conditions to achieve success.
From these values, you can expect that we will do our utmost as your partner to provide you with a quality product in FleetCommander, and quality service that supports it, from project initiation to implementation and beyond. When you contact us, you are going to speak with a real human being that understands your needs because we speak with fleet professionals like you every day. When you partner with us, our team of experts will be here for you.
We stand behind our offerings and guarantee you will reduce costs, improve efficiency, and improve service for your fleet. We don't take it for granted that you're choosing us, and we will do everything within our capacity to give you our best. We truly consider your success our success.
We encourage the same from the entities we partner with. In fact, we established an Annual Core Values Awards program to recognize clients, staff, and others who epitomized each core value during the year. You can hear first-hand from our 2020 award winners at the presentation event in this video.
I hope this has brought confidence to you regarding who you you're dealing with when you work with us. We are Agile Fleet, and we're here to help.
And of course, if you have additional questions for me or anyone from our team, we would be happy to answer them. Feel free to reach out to me at esmith@agilefleet.com or request a consultation below.