Tracking Vehicle Prep and Cleaning Scheduling via FleetCommander
Customer Success Guest Blog by Kathy Wellik, CAFM, Director of Transportation Services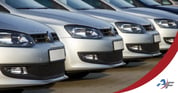 About the Author: Iowa State University Director of Transportation Services, Kathy Wellik, CAFM, has worked in the field of fleet management for more than 10 years. As Iowa State's fleet director, she oversees the university's daily rental fleet. She has been a regularly featured speaker at many industry events, including NCSFA, NAFA, and 100 Best Fleets.
Every organization has unique challenges when it comes to managing their fleet. Iowa State University was able to use the FleetCommander system to their best advantage by creating a unique system that eliminates excess paper and improves efficiency. Read about how they did it.
The Challenge: In the fleet world, there seems to be plenty of paper to process on a daily basis. There are work orders to complete, titles to sign, and reports to run. At Iowa State University Transportation Services, staff are continually thinking of ways they can reduce or eliminate the need for paper. ISU Transportation Services is a fleet of 575 vehicles. Most of these vehicles are leased to customers on a permanent basis, but in the daily motor pool, there can be up to 120 vehicles going out in a single day.
The Opportunity: How do we electronically keep track of when vehicles are going out and at which preparation step are the vehicles? Our parking lot only has a limited number of parking spaces so not all the vehicles are out on the lot at the same time. Vehicles are cleaned, parked out front, and keys are taken to dispatch desk all throughout the day. So, how does our staff keep track of where the keys and vehicles are for today and the next day?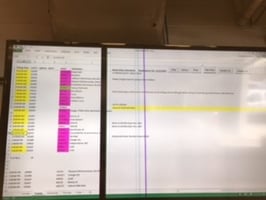 The Solution: Our staff here at the university pride themselves in thinking outside the box. Staff discussed ideas on how to make the process more efficient, make sure that all the staff knew the system, and, most importantly, not print out more reports. Staff discussions led to the staff running the FleetCommander Reservation Detail Extras report for not only the current business day, but also the next business day to plan ahead. It's important to stress that we do not print the report. We run an Excel macro that we developed, and it displays the information on a large TV monitor.
The staff in the clean-up shop now have monitors and a cordless keyboard. They can see which vehicles need to be prepped. We devised our own color-coding system to allow staff to know at what prep stage the vehicles are in (cleaned, parked, keys at dispatch, etc.) Even better is an Excel macro we developed to allow customers to electronically sign for their keys. This system allows our department to go paperless for this portion of our business. It is amazing what a team can do when they work together and think outside the box! --Kathy Wellik, Iowa State University