Agile Fleet Achieves Record-Breaking 50% Revenue Growth
Agile Fleet's fleet technology delivers cost-cutting fleet solutions in tough times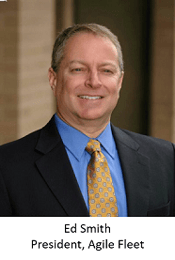 CHANTILLY, VA, December 3, 2020 --Agile Fleet, creator of the FleetCommander fleet management information system, announced today that the company is on track this year to achieve a record-breaking 50% growth over 2019, the highest in its 20-year history.
Agile Fleet President and fleet utilization expert Ed Smith says the COVID-19 pandemic has forced a sharp slowdown of fleet usage in government, education and utility markets. This is increasing demand for Agile Fleet's solutions that help fleets cut the staggering carrying costs of idle vehicles. "Carrying costs of vehicles that sit idle can run into hundreds, thousands, or even hundreds of thousands of dollars per month," says Smith. Reducing these costs is not as simple as just slashing the size of the fleet. By reducing the number of underutilized vehicles and switching to a smaller, more efficient shared fleet, organizations can realize significant savings. "For every driver that is working from home and not using a vehicle assigned to single individual, there is a 1:1 ratio of drivers to unused vehicles. In a shared motor pool fleet, typically eight or more people access a single vehicle, therefore only one vehicle has the potential to be idle instead of eight vehicles, driving an eight-fold savings to your bottom line," says Smith. In addition to the savings from a smaller fleet, the web-based fleet technology allows work-from-home productivity for fleet staff.
Annual carrying costs of vehicles range from $3,000 to $5,500 per vehicle. "Reducing a 100-vehicle fleet to 80 can save an organization $60-$110K annually or more," says Smith. "In fact, we created an interactive calculator and made it available on our website, so organizations are able to calculate the bottom-line costs of idle vehicles during the COVID-19 pandemic using their own metrics," he says. (Access the Fleet Waste Calculator here.)
Agile's fleet management system directly addresses issues brought on by COVID-19, including enabling organizations to:
Drastically reduce carrying costs of idle vehicles while offering attendant-free, self-service motor pools with online reservations and secure, automated key management
Manage vehicle cleaning protocols and policy communication and enforcement as users interact with the system
Easily manage COVID-specific safety capabilities such as collecting data for contact tracing, communicating cleaning procedures, and even adding buffers between reservations to reduce the risk of spreading the virus
Track vehicle usage metrics via utilization reports and make right-sizing decisions
Automate time consuming manual processes such as maintenance management, billing and reporting
"While no one knows for certain when we'll return to normal, it is certain that every additional day that we go without changes to fleet operations is an additional day of an opportunity missed to save money," says Smith.
---

About Agile Fleet
Headquartered in the Washington, D.C. area, Agile Fleet is a fleet management solutions company that serves the government, university, utility, and commercial sectors. Agile Fleet's software, hardware and services enable organizations to efficiently manage all aspects of drivers and vehicles to reduce costs, save time, and improve service. Agile Fleet's flagship product, FleetCommander, delivers the automated management of fleet motor pools, vehicle keys, maintenance, GPS & telematics, fuel, and risk. Additional services provided by Agile Fleet include seamless integration with other systems, fleet efficiency analysis, in-depth technical support, fleet consulting, and much more.
For more information, contact Agile Fleet at (571) 498-7555 x1 or Ed Smith, esmith@agilefleet.com or visit http://www.agilefleet.com.