Government fleets to save hundreds of thousands of dollars annually
Fleet policy enforcement and sharing vehicles contribute to savings

CHANTILLY, VA, October 27, 2016 -- Government fleets are saving hundreds of thousands of dollars by cutting use of personal vehicles for official business. The announcement was made today by fleet savings analysts at Agile Access Control, Inc. (Agile), creator of FleetCommander fleet and motor pool solutions.
Ed Smith, president and CEO of Agile, explains that fleets adopting and enforcing good policies are taking the first step toward cutting personally owned vehicle (POV) expenses: "It is clear that requiring employees to use a motor pool vehicle is considerably more cost-effective than reimbursement for personal vehicle use in most fleet environments. But how do you control use of POVs before-the-fact? One way is by going to an all-online vehicle reservation process that requires drivers to check for the availability of a motor pool vehicle first. Only if a vehicle is not available, or other very specific criteria are met, should drivers be allowed to use their own vehicle. This enables organizations to use the vehicles they have efficiently and drastically cut back on POV mileage reimbursement," he says.
Fleet analysts at Agile cite customer successes in POV expense reductions at Scott County, MN; Forsyth County, NC; and the State of Michigan.
Scott County, MN saves approximately $170K annually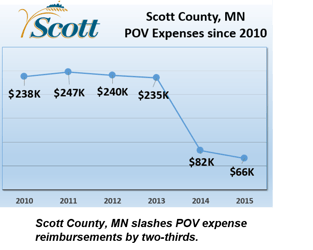 Prior to having FleetCommander tools, Scott County, MN paid out roughly $240-$250K in annual mileage reimbursements. County Fleet Manager Troy Beam reports: "Since we implemented FleetCommander and purchased motor pool vehicles, we pay out between $60-80K in annual mileage reimbursements and it continues to go down as we learn how to better utilize the fleet."
Forsyth County, NC saves more than $300K in five years
Forsyth County, NC slashed their POV expenses by 50%, saving more than $50K per year. Kevin Rogers, Forsyth County Fleet Manager says, "Before our motor pool implementation, our yearly expenditure for POV was approximately $125,000 and after the implementation it was approximately $57,000." Sharing vehicles among departments and extending vehicle availability to staff has enabled Forsyth to significantly cut POV expenses. In the past, only a select few departments were assigned vehicles and the smaller departments used POV. With their Government Center motor pool, several departments are now served with the use of only one pool. POV expenses were targeted for reduction when the county first rolled out FleetCommander in 2011. "We have more than surpassed our goals by reducing POV by 50%. That alone has been a huge success for us," Rogers says.
State of Michigan saves more than $20K per month
The State of Michigan's State Assistant Administrator, Deb Stevens also reports significant savings in POV expense reductions. She says: "During the high volume month of August 2016, drivers rented motor pool sedans 3,568 times traveling 45,747 miles. The average cost per mile was $0.2914. The State of Michigan has two reimbursement levels: a premium rate of $0.54 based on the IRS rate and a standard rate of $0.36 based on the State's cost of operating a mid-size car. Each Department controls employee reimbursement so we cannot know the proportion of each rate used. However, even taking an average of the two rates at $0.45 per mile, it is clear that use of the motor pool saves money. In this example, the monthly savings would amount to $20,586, or a decrease of 17.4% over personal mileage reimbursement."
---

About Agile Access Control, Inc.
FleetCommander creator Agile Access Control, Inc. (Agile) is a leading fleet technology company which serves fleet and motor pool managers in the university, government, utility, non-profit, and commercial sectors. Agile's FleetCommander software is a powerful, highly configurable, web-based application that streamlines the use of vehicles through easy-to-use software, and presents real-time data in the form of intuitive dashboards, graphs, gauges, online forms, and a wide variety of reports. The suite of FleetCommander technology tools includes car sharing technology that offers online vehicle reservations, unstaffed check-in at kiosks, secure key control and key boxes; in-vehicle utilization and diagnostic devices; GPS solutions, and much more - all tied into the FleetCommander fleet and motor pool software. Resulting in lower vehicle and personnel costs and higher customer satisfaction, FleetCommander can be used as a stand-alone, customized fleet management system or integrated with an organization's existing fleet systems. FleetCommander is available for direct purchase without the need to solicit competitive bids by states, cities, counties, all government agencies, both public and non-public educational agencies, colleges, universities, and non-profit organizations via the National Joint Powers Alliance (NJPA) national contract and GSA Schedule. For more information, contact Agile Access Control, Inc. at 408-213-9555 x1 or info@agilefleet.com or visit http://www.agilefleet.com.