Indiana University, Rightsizing Fleet, Reduces Motor Pool by 32%

University exceeds utilization goals and reduces staff time needed to manage fleet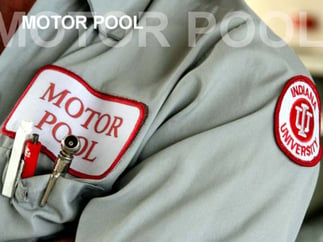 CHANTILLY, VA, June 8, 2015 -- Indiana University has eliminated 19 vehicles and slashed staff time needed to manage the motor pool by more than 50%, as part of their successful fleet right-sizing initiative. The announcement was made today by Agile Access Control, Inc. (Agile), creator of FleetCommander fleet and motor pool software in use at the university.
Indiana's fleet serves 2,700 active drivers and has 550 vehicles and equipment, including light duty cars, trucks, SUVs, minivans, buses, and equipment. "Managing our assets was extremely time consuming and difficult, especially the motor pool. We used to keep track of motor pool reservations in a giant book, where we would color in reservation days by hand. Reservations came in by phone, and we were penciling in reservations on a poster board," says Amanda Wilson, manager of the Indiana University motor pool. "By automating these processes with FleetCommander, I would estimate we have cut back staff time by at least 50%." Despite cutting vehicles, Indiana's fleet routinely receives positive customer service approval ratings of 90% or more via the FleetCommander customer satisfaction survey.
Wilson says the university at one point outsourced their motor pool needs to a car rental company; however that company was unable to keep up with the demand for their frequently changing vehicle types and usage requirements. The decision was made to return to operating an internal motor pool to meet those needs, Wilson says. Armed with fleet data provided by FleetCommander, the Indiana motor pool was reduced from 60 vehicles to 41. The 19 vehicles cut from the pool saves the university between $3,000 - $5,000 per vehicle in maintenance, depreciation, insurance and other costs annually, according to Agile estimates. Since right-sizing the motor pool, Wilson says that Indiana routinely surpasses their utilization goals.
Prior to implementing FleetCommander, Indiana did fleet reporting calculations manually. "With FleetCommander, we now have accurate, up-to-date fleet statistics and total visibility of our fleet. We didn't have that before, the data is fantastic," Wilson says. "We can make money-saving decisions backed up by hard data. We love being able to look at our fleet dashboard and see everything at a glance. The visibility is amazing." Wilson says her goal is to create motor pools at the university's regional campuses and manage them from the main campus fleet office.
"We love to circle back to our customers after they have been using FleetCommander for an extended period of time and see how much they have been able to accomplish. Indiana University is certainly a great example of how having good fleet metrics can empower fleet staff to save money by right-sizing their fleet. And of course we love to see how much easier their processes are to manage by automating them. Helping customers achieve these kinds of successes is why I come to work every day," says Ed Smith, Agile's president and CEO.
---
About Agile Access Control, Inc.
FleetCommander creator Agile Access Control, Inc. is a technology company headquartered in Chantilly, Va., which serves fleet and motor pool managers in the university, government, utility and commercial sectors. Agile's FleetCommander software is a powerful, highly configurable, web-based application that streamlines the use of vehicles through easy-to-use software, and presents real-time data in the form of intuitive dashboards, graphs, gauges, online forms, and a wide variety of reports. The suite of FleetCommander technology tools also includes Agile FleetShare™, car sharing technology that offers keys-in-the-car access to geographically dispersed vehicles with a scanned ID card at the windshield; unstaffed check-in at kiosks, secure key control and key boxes; in-vehicle utilization and diagnostic devices; GPS solutions, and much more--all tied into the FleetCommander fleet and motor pool software. Resulting in lower vehicle and personnel costs and higher customer satisfaction, FleetCommander can be used as a stand-alone, customized fleet management system or integrated with an organization's existing fleet systems. For more information, contact Agile Access Control, Inc. at 408-213-9555 x1 or info@agilefleet.com or visithttp://www.agilefleet.com.