City of Norfolk's DHS automates fleet management
New web-based system will enable Norfolk DHS to better serve the community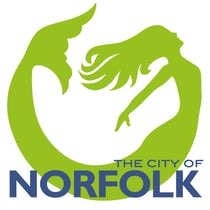 CHANTILLY, VA, April 26, 2018 -- The City of Norfolk Department of Human Services (Norfolk DHS) has launched a project to automate the management of its 30-vehicle shared fleet to slash costs and enable the organization to better serve its clients, its human services workers, and the community. The announcement was made today by Agile Fleet, creator of the FleetCommander fleet and motor pool system that will be expanded there. Agile Fleet also provided the FleetCommander motor pool system used by City Hall employees.
The new system will enable Norfolk DHS to automate manual processes now used to facilitate the sharing of official vehicles. It will:
Provide online vehicle reservations to human services workers
Provide round-the-clock vehicle access through an unmanned, secure key box
Allow Norfolk DHS to assess vehicle utilization data needed to reduce underutilized vehicles and right-size their fleet
Automatically collect odometer data via the GPS telematics component of the system
Track drivers' training status via driver profiles maintained in the system
Track drivers' locations, improving safety
"We are looking forward to improving our efficiency to help our staff who use DHS vehicles. The new online system will allow us to streamline record keeping and focus on other important duties and help our workers get to our clients who need them," says Tina Francis-Talley, Operations Manager for the City of Norfolk DHS.
"The Norfolk DHS offers services to support an at-risk population, including adults, families, children, prisoners re-entering the community, the homeless, and others. We are honored to be a part of the Norfolk DHS's efforts to support the safety of its clients and the well-being of the community," says Ed Smith, president of Agile Fleet.
---

About Agile Fleet
Headquartered in the Washington, D.C. area, Agile Fleet is a fleet management solutions company that serves the government, university, utility, and commercial sectors. Agile Fleet's software, hardware and services enable organizations to efficiently manage all aspects of drivers and vehicles to reduce costs, save time, and improve service. The industry's best value in fleet management, Agile Fleet solutions delivers extensive functionality at an affordable price. Agile Fleet's flagship product, FleetCommander, delivers the automated management of fleet maintenance, motor pools, vehicle keys, GPS & telematics, fuel, and risk. Additional services provided by Agile Fleet include seamless integration with other systems, fleet efficiency analysis, in-depth technical support, fleet consulting, and much more.

Agile Fleet solutions are available for direct purchase without the need to solicit competitive bids by states, cities, counties, all government agencies, both public and non-public educational agencies, colleges, universities, and non-profit organizations via the National Joint Powers Alliance (NJPA) national contract and GSA Schedule.

For more information, contact Agile Fleet at (571) 498-7555 x1 or Ed Smith, esmith@agilefleet.com or visit http://www.agilefleet.com.